By: AussieActivist
16 March, 2014
Sydneysiders took to the streets today to voice their concern regarding current and proposed Abbott Government Policies, or what many would state a citizens vote of No Confidence in the Abbott Govt. From Asylum Seeker/Refugee Rights to Climate Change, Education to  NO CSG, many issues were represented by an amazingly huge crowd.
Some Mainstream media state approx 8000 attendee's in Sydney however, our estimates on the ground were 20,ooo+.  Whilst AAP (as picked up by local news publishers inc, Seven News ) suggest "Placards suggesting that Prime Minister Tony Abbott has a hotline to Satan and others denouncing the illuminati and global weather conspiracies have been waved at a protest in Sydney",  the majority of protester signs were in regards to our current issues on Education, Asylum Seekers, Welfare Cuts, Shark Culls and many more. Its obvious that main stream media have lost all credibility when they try to defame and stereotype what was such a diverse range of everyday people and a diverse range of concerns raised. SBS posted a much better   article representing the true people who attended. Many tweets from throughout the country were coming through to the #MarchInMarch.
A family friendly day was enjoyed by many and "Blackburn couple Dyan and Andrew brought their three kids Dylan, Harper and Marlo because they thought it was important to teach their children not to stay silent if they don't agree with the government" (SBS).   As a democratic country, "Democracy doesn't end at the ballot box," as stated on the social media invitation, "It is the right, if not duty, of all Australians to hold our elected representatives to account; to remind them that they are, above all else, public servants" (SBS).
In true form, "Prime Minister Tony Abbott told reporters he thought the only large rally being held in Sydney was to do with St Patrick's Day" (SBS). In saying that, an apparent clone of Tony Abbott was present today in Sydney.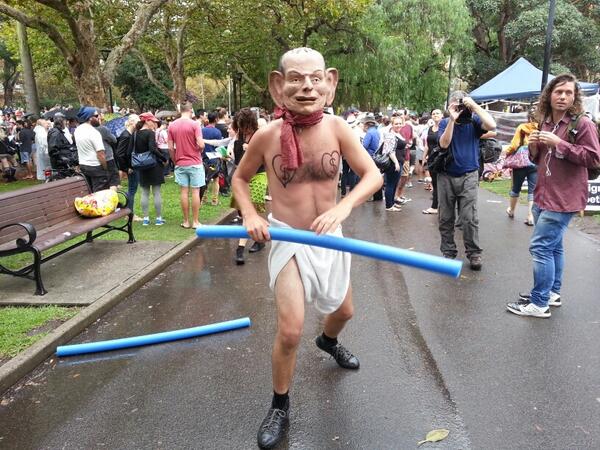 Flickr Album for more pictures.